Elegant Spa
You can create some wonderful towel baskets for gifts without paying a fortune. It's easy and fun to assemble a fabric lined basket like this one.
There are many fabric colors and patterns available as basket liners. Once you find the perfect one add the following:
Four elegant designer towels
Corked bottle of bath salts
Boxed French milled soap
Back brush
Nail brush
Bath Time
This basket has a decided masculine feel and is a great gift idea for a man. Change colors and style for a feminine basket.
Choose a bold brown striped towel loosely rolled and tied with a strip of woven ribbon that matches the liner. Continue the bold masculine theme with:
Carved horn comb (natural comb won't tear hair like plastic)
Glycerin soap with dried botanicals and flowers
Round monogrammed soap
Loofah sponge on a rope
Raffia ribbon filler
Conch shell motif or some other theme
Aromatherapy in Lavender
Create the ideal aromatherapy basket with the relaxing scent of lavender. Select a large basket and then add:
Pink and lavender towels of varied thickness and style
Bars of herbal soaps
Bottles of herbal massage oils
Add a few silk or fresh sprigs of lavender for a classic touch.
Hemp Trimmed Basket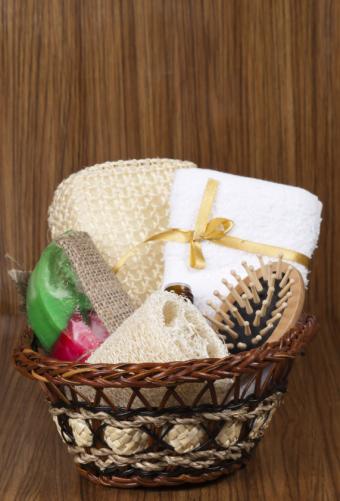 Choose a multi-tone basket with an interesting pattern weave and hemp rope highlights. Add spa products:
Loofah sponge
Hair brush
Large bar of green tea and raspberry soap
Nylon woven exfoliating sponge
Spa towel with gold ribbon tie
A Handle on Toiletries
Everyone needs bath essentials and this basket makes bath time a colorful and fun experience. Select a basket with a sturdy handle.
Colored hand-made soaps
Colorful hand towels
Deodorant
Shampoo and Hair Conditioner
Moisturizer
Mouthwash
Shaving cream
Talc and body powder
Toothpaste
Add a razor, toothbrush, hairbrush and comb to complete this gift basket!
New Baby Basket
This basket idea makes a super baby shower gift. If you know the gender of the baby, then opt for a blue or pink basket. Fill it with several styles of baby bath towels, rolled tightly to accommodate several in the basket.
Add baby specific products:
Brush
Comb
Moisturizing lotion
Nail clippers
Nail file
Powder
Scissors
Shampoo
Soap
Beach Fun!
Capture the essence of the ocean and beach with this fun summer basket! The vivid blue of the ocean and brilliant white sands are reflected in the colors of this basket theme.
Apothecary jars of ocean motif soaps
Bath salts
Lip balm
Massage oils
Moisturizing lotions
Ocean blue and sandy white towels
Sea sponges
Starfish soap
Sunscreen
Add some real sea shells and sea glass for decorative jewels.
Purple and Whiite
This is a great color theme with an amazing textured basket. Choose a distinctive weave and add a couple of thick luxurious towels loosely rolled.
Add to the basket a metal foot fie and foot brush. Other possible goodies include a peppermint foot lotion and foot powder. A pair of soft spa socks will complete the theme for this towel gift basket.
Sprigs of lavender or freeze dried mini roses makes the perfect final decorative touch.
Ultra Basket
The ultimate towel and spa basket is a combination that will please almost anyone!
The woven basket with a handle includes:
Aromatherapy lotions
Brushes
Collection of Sponges
Gel eye mask
Pair of spa slippers
White rolled towel tied with a blue plaid taffeta ribbon
Zen Spa
Grab a wide low basket and fill with a Zen theme. Fold one white towel to use as the liner and cushion in the bottom of the basket. Next place the following:
Fold towel liner
Hand-made oatmeal soap
Knit exfoliate sponge
Loofah sponge
Natural sea sponges
Pumice and foot brush combo
Add a large tropical leaf for a final Zen touch for your basket and towel display.