Sophisticated Gray Geometrical
Modern bedding trends offer several looks for your bedroom from understated, sophisticated, geometric to Bohemian styles.
This bedding collection features a chic gray and white geometric pattern bedspread with matching decorative pillow. Light gray sheets, medium gray blanket, and pillowcases add the perfect contrasting layers against the gray upholstered bed. Hints of pink add a dash of color. Use this in ultra- modern or modern/contemporary blended room designs.
Modern Boutique
This white boutique style bedding has a silver stripe accent giving it an elegant yet simplistic appeal. The silver accent color is ideal for this stark white décor scheme. If you have a minimalist decor style, but want a slight touch of color and sophistication, this bedding hits the mark.
All About the Stripes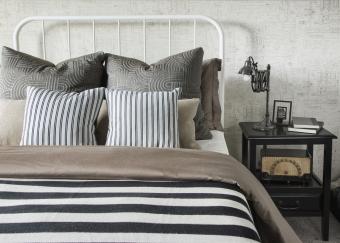 A stripe theme is carried out with the comforter bold horizontal stripes and vertical pinstriped accent pillows.
The stripe effect is contrasted with two Euro-sized geometric gray pillows.
The bottom sheet picks up the white background in the striped comforter.
The top sheet introduces a taupe color that's repeated in the sham pillows and lighter colored bed pillows.
This bedding style is ideal for any nautical themed bedroom design; it also works well in a modern masculine bedroom.
Flower Applique
Flower appliques made their way to bedding with this relief motif. This collection includes a lumbar pillow with concentric circles and a pair of blue pillows with white appliques. The bedding set provides a fun bridge between modern and vintage bedroom designs. If you need to glam up a bedroom design, this bedding is an ideal choice.
Grey and Blue
This gray striped comforter adds a subtle masculine flair. A pair of blue striped lumbar pillows bridge the transition between the comforter, and blue/brown double plaid pillows. Solid gray and white pillows banked behind them complete this color palette. Use this design for a guest or master bedroom.
Colorful Geometric
Go bold in geometric patterns with this triangle design featuring black and yellow accent colors. The same fabric pillows are accented with a smaller yellow pillow. The final touch is a pop of color with an oversized peony pink blanket. This bedding is the perfect addition to any eclectic décor in need of a geometric flair.
Faux Fur Throw
A faux fur accent throw is a guilt-free design extravaganza that telegraphs luxury. A simple white organic cotton bedspread with matching pillows is accented with this scrumptious oversized faux fur throw. The fur theme is continued with two lumbar accent pillows for a stunning bedding addition. This design is a great choice for an urban chic bedroom.
White Duvet and Linen
Fluff it up with a modern down duvet. This linen themed bed is transformed with the addition of a luxurious white duvet. The duvet features a baffle-box stitch design. The linen bed skirt offers a clear contrast. Select this bedding to update a traditional bedroom design with a modern flair.
Blue and White Flowers
This modern comforter boasts an elegant stylized floral pattern, a modern take on the large traditional floral pattern. A white branch and leaf design set against a powder blue background also features a wide white border. A matching pair of pillow shams completes this bedding set. This bedding is an inviting choice for a guest or master bedroom.
Bold, Big, and Colorful
This bold teal and brown floral design takes center stage in any bedroom design. The collection is complemented with a silk, tufting style, teal pillow. Striped accent pillows provide a sharp contrast while introducing a yellow accent color. Choose this bedding for a fun beach house bedroom or bedroom retreat.
Blend Room Colors
One way to bridge a modern bedding design and themed decor is to introduce a stylized comforter and accent pillow that marries the two basic room colors. This modern floral pattern accomplishes this blending of blue and white. A concentric square pattern is used for two accent pillows to complete this crisp and fresh look. This bedding can be used for any cottage, modern, or beach décor.
Gray and Neutral
A mix of light gray and neutral morel colors gives just the right touch of subtle coloring against this tufted headboard. This bedding set will also work with other bed frame styles. The slight sheen on the pillow fabric adds just a hint of trendy to the modern style. This boutique style bedding can be used for any guest or master bedroom.
Velvet Sherpa Comforter
Buy Now"
This velvet comforter with matching pillow shams is a tactile delight. The reversible comforter can be used with the velvet or Sherpa side up. A box stitch finish keeps the down alternative filler from shifting and helps retain its shape. Any youth or adult will appreciate the lush warm texture of this bedding.
Retro Made Modern
An orange and white twin bedding set with a 1960s modern retro look may be just the look for a retro bedroom design. The orange sheets are contrasted with white comforters and a white pillow sham. The floral pillows provide a striking contrast of white flowers on orange and orange flowers on white. This bedding will thrill any retro modern fan and a fun design for a college dorm.
Boho Chic
Buy Now"
Give urban chic a dash of boho with this bedding design solution. When it comes to modern boho, it is all about color and design. Chose a comforter set that includes matching pillow shams for a lavish introduction of blues and pinks with splashes of orange and yellow. This bedding choice is perfect for any boho fan wishing to add a pop of color.
Whether your sense of modern bedding style is funky and colorful or gravitates more towards contemporary style, you can find plenty of bedding ideas.