Any young builder and game enthusiast will appreciate the perfect Minecraft-themed bedding. There are many bedding choices available that include comforters, quilts, blankets and complete bedding sets.
Bed-In-A-Bag With Bonus Tote
The Minecraft 5-piece comforter set from Walmart includes a comforter that features various green colors and with a centerpiece black pixelated Minecraft icon. The sheet set is a gray pattern of typical Minecraft graphics. This twin size bedding is a great economical choice that offers an instant set up for any builder.
The set includes:
Comforter
1 fitted sheet
1 flat sheet
1 pillowcase
Bonus tote bag (8"D x 17"W x 14"H)
Price: Around $30 (rollback price) regular price around $43 plus 2-day shipping (Free for $35+ orders).
Minecraft Twin/Full Comforter in Green
The twin/full size green microfiber comforter from Bed Bath & Beyond features several cubed Minecraft characters in their textured 3-D pixel environment. The comforter filler is 100% polyester and is machine washable. This comforter is a great start toward creating a Minecraft bedding ensemble.
Customize your bedding by next selecting the sheet set and pillows you like to complement the comforter as you desire. These could be Minecraft-themed as well, or simple green and gray sheets that match the colors of the comforter. Skip buying more bedding if you all ready have these sheets on hand!
Price: Around $60 with free shipping on order over $29.
Kids' Minecraft® Sheet Set
This multi-blue sheet set from Target features two Minecraft tools: the diamond pickaxe and sword. The pillowcase features the pickaxe on one side and the sword on the other side. It's machine washable, tumble dry and available in twin, full and queen sizes. This modestly priced sheet set will complement any comforter or quilt in similar hues. If your child doesn't care for green, which is promenient in most Minecraft bedding, this is a great alternative due to the blues and grays.
The set includes:
1 fitted sheet
1 flat sheet
1 pillowcase (twin), 2 pillowcases (full and queen)
Price: Around $21 (twin), $29 (full), and $34 (queen).
MineCraft® Good vs Evil Comforter
This twin size kids' microfiber comforter, also from Target, is reversible. This comforter gives you two looks for the price of one.
The Minecraft good guys (Steve, pigs, chickens, etc.) are featured on one side. This side is a light gray.
The evil Minecraft characters (Zombie Pigman, Creepers, Blaze, and magma cubes) cover the other side of the comforter. A dark charcoal color provides the bedding background.
The comforter is machine washable and tumble dry. The reversible comforter gives you the option of two distinct looks without having to purchase two separate comforters.
Price: Around $32.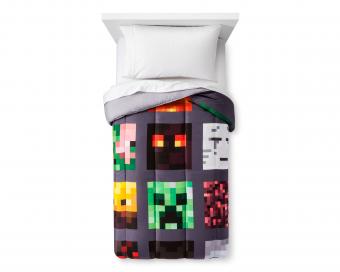 Steve Duvet Set
This Steve-themed duvet from Lusy has a pattern in blue, green, gray and brown. It features the Minecraft main protagonist, Steve, holding a pickaxe while in action. The zombie cave and zombies can be seen in the distant background. The duvet and pillowcase are made from 100% cotton with the duvet filler also cotton. Available in twin, full and queen sizes.
The large Minecraft wording creates a nice look when turned down, something other bedding options don't often have. It makes an excellent choice for a girls' themed bedroom with the bright blue colors or for a super-Steve fan of any gender.
Set includes:
1 duvet
1 pillowcase (twin duvet), 2 pillowcases (full and queen)
Price: Around $60 (twin), $67 (full) and $80 (queen).
Character Duvet Set
This character duvet from Lusy features Minecraft characters against a solid dark blue background. Steve, Alex, zombies, duck, pig and other favorites create a collage sure to thrill any Minecraft enthusiast. The duvet is a poly/cotton blend with a cotton filler. The black background gives this a look that is sure to please not only little builders, but also look cool enough for the pre-teen/tween set of Minecraft fans, too.
Set includes:
1 duvet
1 pillowcase (2 pillowcases for full and queen size duvets)
Price: Around $60 (twin), $67 (full) and $80 (queen).
Minecraft Fighting Back Sheet Set
Kohl's has a great sheet set for any young builder. This set has a gray background littered with various weapons, such as Eye of Ender, sticks, arrows and more. The microfiber set features a Minecraft logo on the pillowcase(s). This sheet set will go with just about any Minecraft comforter or quilt, and it is a great option for kids who are fascinated with the tools rather than the characters.
Set includes:
1 flat sheet
1 fitted sheet
1 pillowcase (2- full size sheet set)
Price: Around $50 (twin), $60 (full).
Mojang Minecraft Grass Silk Blanket
This twin size plush throw blanket at Amazon is made from silk-touch microfiber polyester and features a green and brown terrain design. Machine washable, the blanket is naturally hypoallergenic. If you don't wish to use a comforter, this is an excellent alternative. The throw blanket can be used in addition to a comforter or quilt. Kids who have plush characters will find this the perfect background for displaying them.
Price: Around $35 plus free shipping for Prime members.
Minecraft Spawn Reversible Twin Comforter
The black and gray Spawn comforter from Toys R Us is reversible, featuring Minecraft characters and graphics. The quilt filler is polyester and stitched in place. This quilt offers a two-in-one bedding option.
One side features a unique image of a Creeper, Zombie and spider peering out from behind blocks that have been broken. An Enderman lurks in the background.
The opposite side is plain black, making it ideal for use after a child has outgrown their Minecraft gaming years.
Price: About $50, plus free shipping on order over $29.
Creeper 3-PC Quilt Set
This colorful Creeper themed quilt set from Fancy Dzign is made of peachskin fabric that gives it a silky soft texture. The set is hypoallergenic and dust mite resistant. This makes it perfect for families who suffer from allergies while still being colorful enough to provide a fun ensemble for Minecraft fans. The pillowcases feature the Minecraft logo and both the pillowcase and comforter have multiple characters along with the Creeper. It's available in a full/queen size.
Set includes:
Price: Around $80.
Minecraft Bedding Choices
When shopping for Minecraft bedding sets or individual pieces, there are several themed choices. The variety of these choices offer Minecraft builders many choices so their bedroom design can reflect favorite aspects of the game.