Finding the Perfect Beach Towel
A day at the beach or pool is fun but it's more enjoyable with the right beach towel. Whether you're looking to make a fashion statement or searching for a certain design function, you'll want to be sure you have plenty of cool options to consider.
During the slideshow if you want to purchase or learn more about a towel, click on "more details" above the image.
Round Towels
More Details"
Towels don't need to be rectangular. Instead, a stylish round towel, like this Mandala Tapestry Beach Blanket or Towel is not only a beautiful towel, but the round design makes it ideal for other uses besides the beach. It comes in two other colors - pink/purple and red/yellow - and is made up of 100% cotton. It's 6-feet-by-6-feet and 1-inch thick, which makes it more versatile; it's perfect as a yoga mat or outdoor picnic. It costs about $32 at Wayfair.
Towels for Foodies
More Details"
Another fun idea, particularly for kids and teens, is a round towel featuring their favorite snack foods. These towels come in many different types of food items besides donuts, such as pizza, pineapples, watermelon, cheeseburger, fries and ice cream sandwiches. Buy it online through Walmart for about $55. It's a cotton/terry velour mix.
Reserve Your Spot
Buy Now"
Don't you just hate it when you go to a crowded pool or beach and there are no lounge chairs, then finally, you find the perfect spot only to have someone come along to toss your towel aside and claim it? No more! These "Reserved" towels will help keep your spot safe and officially "yours".
The towel is 100% cotton and costs less than $20 at Amazon.
Twister Game Towel
Buy Now"
Going to the beach is fun, but this Twister game towel will not only keep you dry but provide entertainment as well. Find a Twister game spinner or call out instructions to play a round or two. This polyester cotton blend towel is a generous 28-inches-by-56-inches and costs about $27 through Amazon.
Turkish Beach Towel and Wrap
Buy Now"
It's always nice not to carry so much to the beach. This towel will keep you dry and also serve as a wrap or scarf, freeing up your tote or bag for other beach essentials. These towels come in several colors and designs that will match most swim suits. They're made of 100% cotton, 70-inches-by-39-inches and super absorbent and compactible, which is perfect for traveling. Pick it up at Amazon. The towels start around $17.
Towel for Two
More Details"
Instead of trying to line up your towels when you're at the beach with a friend, a cool idea is to use a towel meant for two. This towel is a spacious, 62-inches-by-70-inches, made of cotton; one side is sheared for plush softness and looped on the other for absorption. The design is perfect for anyone and works perfectly with similar colored suits. Also included is a nylon carrying strap. Find the towel at Pendelton for around $90.
Reversible Beach Towel
More Details"
Most beach towels have gorgeous designs on one side but on the other side, nothing but solid white. This cool Tidal Wave Beach Towel designed by Tide & Pool and available through Gilt, provides a colorful front and a simple design on the back. So no matter which way you lay out your towel, it has a lively pattern to show off. This towel cost around $70, is 67 inches by 40 inches, has fiber reactive dye for vibrant colors that last, and 100% cotton terry, which they claim is twice as plush as other towels.
Seat Protector and Towel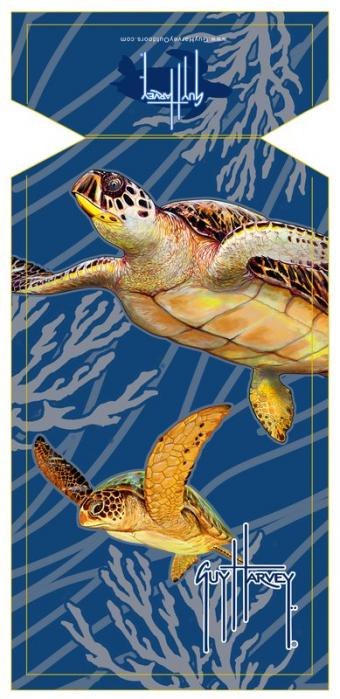 More Details"
You had a fun day at the beach, but cringe when it's time to load up in your car. These cool towels not only have the famous Guy Harvey artwork design and signature, but also are specifically equipped to fit over lounge, car, or boat seats with a back pocket that hangs over the head rest. It's made of heavy duty terrycloth with a velour finish to absorb and protect your seats. Pick up the 60 inch by 30 inch towel from Wayfair for around $26.
Sunbathing Skeleton
More Details"
Everyone loves a good laugh and people will do a double take after they walk by this skeleton sunbathing on a beach. All joking aside, this towel is available for $16 through AliExpress. It is 55 inches by 27 inches and 100% polyester. While it's probably not the best quality towel, it will make a great inexpensive gift and prank, which adds to the "cool" factor for most tweens, teens, and adult jokesters.
Beautiful and Unique Designs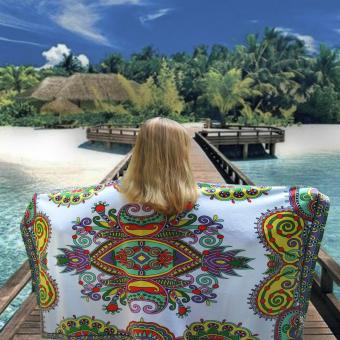 Buy Now"
Look lively with this colorful Mandala Pattern Beach Towel by Izzy & Roo. This beautiful towel is only $24 at Amazon and the perfect size; 28.5 inches by 63 inches. It's made up of 100% polyester, and the manufacturer claims it absorbs water three times faster and dries quickly.
These towels will definitely have you looking cool, make a statement at the pool or beach, and keep you dry. Don't forget to find the perfect slimming swimsuit and then check out the best beaches to travel to in the world, California, or East Coast to show your towel off.