Zicci Bea Bedding Interview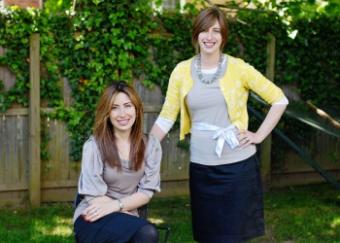 Zicci Bea is a dream realized by friends Yali Katz and Shoshanah Weinstock. Both women are interior designers and saw a need in the bedding market that they felt their combined unique design styles and perspectives could fill. Recently, LoveToKnow editor Sally Painter had the opportunity to discuss this new venture between friends in this exclusive interview.
A Look Inside Zicci Bea Bedding 
LoveToKnow (LTK): When did you first open doors for business? How did you come up with the name?
Yali Katz (YK): We were fully open for business in January 2010. We brainstormed on our name, which is a play on our never used middle names, one fine day over lunch two years before we opened.
Friends as Business Partners
LTK: Two friends joining forces to create a company sounds exciting and challenging, what advice do you have for others who might be tempted to take the plunge?
Shoshanah Weinstock (SW): Just do it! Keep your eye on the goal and remember to be open about issues. Creating a business plan and partnership agreement are key. Shoshanah and Yali make a point to go Girl shopping once a month, no business talk allowed!
LTK: What is the one thing that you've learned in this partnership that surprised you?
SW and YK: Two people with different and many skill sets still require a support team to keep moving forward.
Bedding Collections 
LTK: What types of bedding collections do you offer? It's all machine washable, which is a big plus!
SW: Our debut collection is composed of fun color spins on classic patterns that nearly everyone can identify with. Many of our patterns are not age specific and can grow from toddler to teen or teen to adult. Our reversible concept keeps the look of our bedding fresh. Clients can be hotel sophisticated one day and funky stripes another without investing in two bedding sets.
LTK: Where did the names for your bedding collections come from?
YK: Some were descriptive, some are an ode to people we work with, we brainstormed the rest.
LTK: How did you decide on the type of products to carry?
YK: We simply felt a need, then studied the void in the bedding market and developed a product in the style and price point that we were unable to find.
LTK: How much creative control did each of you have over your collections? What process did you use to narrow your choices and then make final decisions?
SW: We have complete creative control. All our patterns and colors were developed because of a need in the market so it was important for us to edit, edit, edit until we were satisfied. Our collection consists of girl, boy, adult, guest, bachelor and everything in between.
Healthy Earth Commitment
LTK: What is Healthy Earth Commitment?
YK: Healthy Earth is so important to us. We are moms first, then we are designers. Putting our children and selves to sleep on a product that uses certified safe dyes and no toxic chemicals is very important to us. We are also consumers and created a product that we can and would buy. The price points for our bedding are about half of what a similar product in design and quality would cost. We are able to do this because we keep our overhead down and pass that on to our customers.
Where to Buy
LTK: Besides online, customers can find your bedding in many brick and mortar stores. Any plans for your own retail stores? What's on the horizon for Zicci Bea?
YK: We don't stop here. As interior designers we have so many ideas for accessories and possibly furniture. We plan to keep developing new patterns and don't plan on limiting our offerings to bedding only. Stay tuned!
A Special Thank You
LoveToKnow would like to thank Yali Katz and Shoshanah Weinstock of Zicci Bea for taking time out of their busy schedules to share their story.