If your bed sits directly on the floor, it is a great opportunity for bedding design inspiration. There are several ideas that can help you create a neat yet truly attractive bedding design.
1. Top a Mattress and Box Springs
Some people prefer height even when placing their bed on the floor so they opt to use the box springs. This additional height can give better bedding options that look attractive. With this type of mattress treatment, it's easy to add a headboard securely affixed to the wall.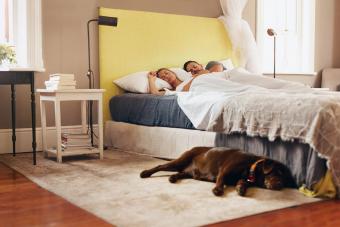 Add a Comforter, Duvet, Quilt, or Bedspread
You can use just about any type of bed covering, such as a comforter, quilt, duvet or bedspread since all have a long enough drop to cover the mattress and box springs.
Style With a Fitted Sheet
Another design option you might like is to use a different design for the fitted sheet on the box springs. For example, use a different color from the top mattress, such as green on the mattress and blue on the box springs, or red on the mattress and yellow on the box springs. For a greater design statement, opt for a patterned sheet, such as a chevron, plaid, or polka dot.
Use a Bed Skirt for Romantic Flair
Another option for a double mattress floor bed is a bed skirt. This design is typically placed on top of the box springs with the skirt falling over the sides of the box springs and held in place by the top mattress.
2. Match Comforter and Sheet Colors
Another great way to give a clean look is to match the fitted sheet to your comforter. This provides a continuous color without a break. Instead of the focus being of the mattress on the floor, the attention is drawn to the bedding.
Add Layers of Pillows
Add at least three layers of decorative pillows to continue to draw the eye away from the floor to the bedding.
Use matching pillow shams to make up the first layer.
For the second layer, use a pair of accent color pillows.
Top with a pair of light colored lumbar pillows and a throw pillow that either repeats the comforter color or the accent color.
3. Add a Fitted Tufted Mattress Cover
Another option for creating a neat, clean look for your floor bed is to invest in a customized tufted mattress cover. This can be made of almost any fabric choice, such as velvet or a light-weight cotton chintz. The only limitation you have with this bedding choice is your own imagination.
Select equally stunning bedding options, such as a large stylized knotted pillow.
You can also add a bed throw in a different fabric and weave for contrast and another layer of texture.
4. Drape Bedding to the Floor
There are certain bedding choices that look great when allowed to drape to the floor. Some of these include:
An eye-catching geometric pattern is best shown off when the bedspread is allowed to drape to the flow.
A flowing ruffled bedspread creates a romantic ambience when is drapes to the floor.
Graphic intense comforters can be displayed in full when it covers the entire mattress area with the edges falling gently to the floor.
5. Add Casual Glamour With Textures and Colors
You can design a glamorous bedding look when you use color and textures. This bed design begins with the gauzy fabric that spills over the head of the bed to cascade to the floors.
There can never be too many pillows with this design approach. The key is to select pillows with the right color patterns and solid colors while offering a variety of shapes and sizes.
The deciding element are the layering of throws. These should offer bold to subtle textures, such as these oversized hand-knitted throws in gray and pink.
An elegant tabbed white throw peeps out between a gray chenille throw and the rustic hand-knitted pink throw. This bedding design works since it appears casual and unintentional.
Great Looks for Floor Beds
It's easy to design a great looking floor bed with the right bedding selections. You can keep your design trim and neat when you pay close attention to the bedding style.