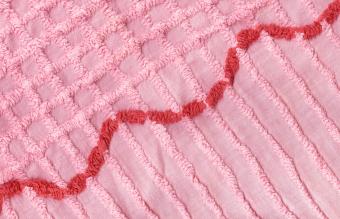 Recent decorating styles like the cottage chic movement and the modern country look are creating a surge in the popularity of chenille bedspreads. Just like most home decorating trends, everything old becomes new again. Learn where to find these bedspreads and how to work them into your decorating scheme.
Where to Find Old Fashioned Chenille Bedspreads
Whether you want an actual vintage chenille bedspread or a modern take on this design classic, the internet is an excellent shopping resource. The following sites offer a great selection of modern or antique chenille bedspreads:
Macy's: Three-piece queen size bedspread sets are offered and described as tufted and chenille. Three colors are available: white, sage, and taupe. It's regularly priced between $240 and $280. Macy's offers free shipping for $49+ purchases.
Bed Bath and Beyond: This popular home store carries chenille bedspread in several sizes and colors. Prices range from $23 to $94. If you purchase online Bed Bath and Beyond offers free shipping for orders over $39.
Amazon: You can find a very large range of colors, styles, sets, sizes (twin, full, queen, king) and prices ($26 to $239) on Amazon. Just a few brands available include Beatrice Home Fashions, BrylaneHome, and Modern Heirloom Collection.
Touch of Class: You can find a nice range of chenille bedspreads that are in traditional designs, even some unique ones, such as chenille over satin and a flounce ruffle. Many of the styles are oversized and are available in twin, full, queen, king and California king sizes. You'll find spreads that can cost up to $250, though many are less.
Shopping Tips
Before purchasing a chenille bedspread, you should keep the following shopping tips in mind:
Think about the weight of the bedspread. Due to its nubby texture, chenille can actually be very warm. If you plan to sleep under this bedspread, think about how warm you'd like it to be. Buy a lightweight bedspread to keep cool or a heavier one for the winter months.
You can often gauge the weight of bedspreads by the density of the design. For example, many lightweight bedspreads have large amounts of space between tufted design patterns.
Consider the rest of the décor in your room. If you already have a lot of vintage items, you might want to go with a very simple chenille bedspread. On the other hand, if your room is fairly plain, a chenille bedspread with an elaborate pattern could be just what you need.
You may need to launder this bedspread frequently, so examine the fabric content and be sure it can be washed in your washing machine. Dry cleaning a bedspread can be inconvenient and expensive. Natural fibers like cotton are more likely to stand the test of time.
Make sure you pay attention to the return policy for the store. When shopping online, it can be difficult to gauge colors correctly. If you get your bedspread home and are not happy with it, you'll be more comfortable knowing you can return the item for a refund or exchange.
How Is a Chenille Bedspread Different?
There are several important differences between common bedspreads and chenille ones. Some major characteristics of a chenille bedspread include:
Size: While quilts or comforters are typically only a little longer than the mattress, bedspreads are designed to hang all the way to the floor. They are both longer and wider than other bed coverings. This means it's extremely important to take accurate measurements before ordering a chenille bedspread for your bed. Many contemporary chenille bedspreads are advertised as oversized to ensure they fit deep pocket mattresses.
Texture: Chenille bedspreads have a characteristic nubby texture. In fact, the word chenille comes from the French word for caterpillar. This texture can be a wonderful way to add texture and interest in your bedroom décor. Some chenille bedspreads require more frequent laundering than a typical bedspread.
Simplicity: Most vintage and vintage-styled chenille bedspread patterns feature multiple colors. Later designs shifted to favor more solid colors; this change gives a simpler look than you might find in a quilted bedspread or other multi-colored bed covering. Accessories like pillow shams and bed skirts are unnecessary when you use a chenille bedspread although many offerings come with a set of matching pillow shams.
Unique Look of Chenille Bedspreads
You can create a unique bedroom design by selecting the right chenille bedspread. This outstanding bedspread style can easily become the centerpiece of your bedroom by adding just the right touch of nostalgia to a retro design scheme.