Ideas for Interesting Window Treatments
Get Interesting!
No matter how you're trying to decorate, there are many ideas for interesting window treatments that can help liven up your room. While classic options such as blinds and shades are practical and useful, special drapes, unique curtains, or other unusual ideas can add more visual interest to your walls and windows. With a bit of creativity, your options are endless.
Colored Sheer Curtains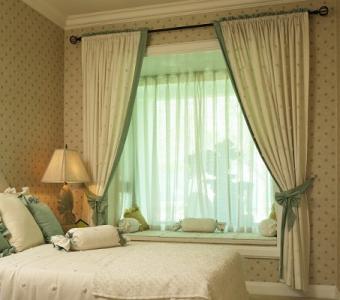 Sheer curtains are a popular and easy option to cover a window and provide privacy without blocking all the light. Instead of white sheers, however, opt for colored sheer curtains to add a bold burst to the room. Coordinate the sheer color with accents in the framing drapes, bedspread, or other linens in the room for a sophisticated look.
Royal Draping
Heavily swagged drapes in lush fabrics are always a popular choice for elegant, luxurious window treatments. Opt for longer drapes that can flow easily into curves and swags, and layer valances for additional depth and texture around the window.
Bold Colors
Be bold with color when you're choosing window treatments. Bright colors are especially popular for children's rooms, and you can add more interest to the curtains by opting for a patterned valance over solid drapes in coordinating shades.
Coordinated Corners
To blend together two windows on adjoining walls, treat them as a single window when arranging window treatments. Instead of two draperies per window, use just one and have their swoops mirror one another. This will visually connect both windows and create a more interesting and unique look for the entire room.
Architectural Interest
In a room with an architecturally unique ceiling, basic window treatments can seem bland. Instead, follow the angles of the ceiling to give the window drama and make it seem larger than it really is.
Matching Linens
Coordinating the colors of the curtains and draperies with other linens such as a bedspread or area rug will give the room a sophisticated design touch. Patterned fabrics are especially bold and noticeable, but you can also coordinate solid colors for a more subtle look.
Bay Window Draperies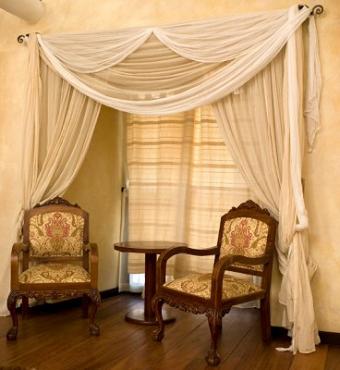 If you have a bay window that needs curtains, create a snug, soft niche by aligning the draperies with the interior wall rather than over the windows directly. This will separate the windows from the rest of the room while still coordinating them, and one large window treatment can be easier to arrange and install than several smaller ones over the individual windows.
Window Shelves
If you have a small room and need more storage space, opt for custom shelves around the window as a practical and unique window treatment. This is particularly useful for children's rooms, craft rooms, or libraries, and if you still want a window covering, opt for a shade instead of curtains.
Floor to Ceiling
Floor to ceiling curtains or draperies make any window seem much larger and more dramatic than it may be. Darker draperies or dark sheer curtains are especially bold for a modern yet simplistic window treatment.
Headboard Windows
If you plan to position a bed in front of a window, coordinate the window treatment with the bed's linens to give the window the appearance of an elaborate headboard. This is also a fun look to arrange even if there isn't really a window in the room!
Center Cinching
Instead of drawing draperies to the sides of the window, cinch them in the center for a more interesting appearance. Choosing different colored panels for each section will give a unique look. Leave the center panel as a white or light colored sheer to ensure that enough light still comes through the window.
Long Valances
For a long window, a plain valance or shades can be boring. Make it more interesting by sectioning the window treatment with patterned panels. Simple table runners can be repurposed as these unique partitions, or you can make custom window treatments that coordinate with your furnishings and other design details.
Patterned Blinds
If you prefer the chic functionality of horizontal or vertical blinds, you can still have interesting window treatments. Instead of plain blinds, opt for patterned designs that have a bold border to help hide dirt and fingerprints.
Accessorize
No matter what window treatments you have, you can make them more interesting with the right accessories. Simple draperies instantly become more luxurious with deluxe tassel tiebacks and braided cords. Home décor stores will have a variety of tiebacks available, or you can add silk braids, beads, or crystals to a simple tieback for a custom design.
Looking for more ideas for interesting window treatments? Check out these articles for interesting inspiration: