All high thread count (TC) sheets are not created equal. One of the most common complaints by customers who purchase 600 to 1500 TC sheets is the lack of softness. Many high thread count sheets are made from coarse and short cotton fibers and are often 2-ply yarn weaves. These properties make for a very heavy and stiff feeling linen. Be sure to read the labels and, if possible, feel the sheets before you buy expensive thread count sheets to make sure you like the weight and texture.
600 Thread Count Sheets
This is considered to be a lower range of thread count, but depending on the type of yarn, thread ply and thread fiber, some 600 TC sheets may be softer than twin ply coarse yarn fiber 1000 TC sheets. It's all in knowing the difference in what these terms mean in regards to a sheet being soft and luxurious or stiff and coarse.
MicroTouch Sateen
If you prefer wrinkle free sheets, then you may want to try the Micro Touch Sateen that's a cotton blend of 59% cotton and 41% polyester.
Bed Bath & Beyond customer reviews: 3.3 stars average rating from reviewers. Some consumers rated the sheets 5 stars. One reviewer complained of pilling and one reviewer had a rip or tear in the fitted sheet.
Sizes: Queen, California King and King
Available in 10 colors: Grey, White, Ivory, Taupe, Royal Blue, Teal, Lilac, Brick, Cedar and Sky
Price range: $79.99
Macy's Hotel Collection
Macy's Hotel Collection includes 100% Egyptian cotton sheets that are soft. You may want to consider this one for a true boutique look for your bedroom.
Macy's customer reviews: 4.5 stars average rating among reviewers
Sizes: Twin, Full, Queen, California King and King
Available in 10 colors: Celedon, Lacquer, Bronze, Cloud, Gold, Ivory, Nickel, Truffle, White and Aquamarine
Price range: $120 to $190
Easy-Care Lace
Easy-Care Lace sheets are also a blend with 65% cotton and 35% polyester. This blend gives a sheet fabric that is soft and wrinkle free.
Bed Bath & Beyond customer reviews: 5 stars from a small number of reviewers. Customers report that the lace is very durable and sheets are wrinkle free. Both reviewers reordered.
JC Penney customer reviews: 4.4 stars from several reviews. 83% recommend buying these sheets.
Sizes: Full, Queen, California King and King
Available in six colors: White, Ivory, Linen, Sage, Blue and Lilac
Price range: $69.99 to $89.99
Bed, Bath & Beyond offers several other choices in 600 TC sheets such as 100% Egyptian cotton sheets by and Eucalyptus Origins? made from eucalyptus tree wood pulp.
800 Thread Count Sheets
Legends®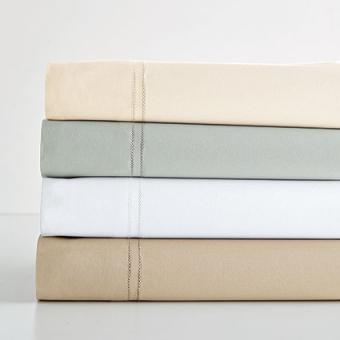 Legends® is made from Egyptian cotton. These sheets are advertised as "Expertly spun with ultra-fine, single-ply yarn for a dreamy soft drape that won't weigh you down." They have a sateen weave that gives it sheen and imbues the fabric with a silky feel.
The Company Store customer reviews: 5 stars from a small number of reviews.
Sizes: Queen, California King and King
Available in three colors: Cream, Latte and Moonstone
Price range: $129.00 to $149.00
1000 Thread Count Sheets
Wamsutta® 1000 Sateen Sheet Set
These Wamsutta® sheets are made from 100% Premium Long-Staple Cotton. The flat sheet is oversized and the fitted sheet is extra wide to fit mattresses that are 20" deep.
Bed Bath & Beyond customer reviews: Reviews are positive, with a majority rating it at 5 stars, noting that they can get softer with use, that they are "luxurious and dreamy", and they are comfortable.
Sizes: Full, Queen, California King and King
Available in ten colors: Colors range from light pastels like sky blue and grey to darker neutrals
Price range: $179.99 to $249.99 per set
Sleep Philosophy
Sleep Philosophy sheets are a cotton and polyester blend that are wrinkle free. Woven specifically to be soft, the cotton fibers are combed and mercerized, which is a softening and strengthening process.
Designer Living customer reviews: 4.5 stars from a small group of reviewers
Sizes: Queen and King
Available in four colors: Linen, Blue, Sage and White
Price range: $142.85 for either size
1200 Thread Count Sheets
Many people consider 1200 TC sheets to be the epitome of high-end luxury. This may be true as long as the cotton fibers are ultra fine. You can, however, end up with sheets that are coarse and stiff. Some of the softest 1200 and 1500 TC sheets sold online include those from:
Valentino 1200 TC Luxor Linens
Valentino TC Luxor Linens are 100%% Mercerized Egyptian cotton with extra long fiber. Advertised as best selling and most requested sheet set.
Luxor Linens customer reviews: 4.5 stars from a few reviewers
Sizes: Twin, Twin XL, Full, Queen, Olympic Queen, Queen Water-Bed, California King, King and Split King
Available in nine colors: Black, White, Sky, Blue, Gold, Taupe, Wine, Ivory and Sage
Price range: $279 to $400.38
Tips for Buying High Thread Count Sheets
It's important to know a few things about the sheets you're purchasing. The following tips can guide you in choosing the perfect set of sheets:
Long fiber cotton will give you a softer yarn weave.
One-ply weave will give a lighter weight sheet than a 2-ply yarn weave.
If you desire wrinkle free, then you need to purchase a cotton and polyester blend.
A combed cotton yarn is literally combed to remove short fibers than can interfere with the weaving process and create knots and future pilling.
Mercerized cotton is a treatment that gives a lustrous sheen to fabrics. The other benefits are fiber strengthening and a reduction in lint production.
If you notice a wide gap between opinions when reading consumer reviews, keep in mind that not all consumers follow care labels correctly and can end up dissatisfied. When possible, it's best to be able to touch and examine sheets before making an expensive investment.