The standard length for most shower curtains is 72 inches. For some specialty bath tubs, shower enclosures or rooms with high ceilings, an extra-long curtain provides more aesthetic appeal and works better than the traditional length. Buying options include ready-made shower curtains with extra length, custom-made shower curtains, or making the curtain yourself.
Linens 4 Less
Linens 4 Less carries a modest variety of specialty size shower curtain liners and curtains in both fabric and vinyl. Prices vary depending on the length:
84 inches long - about $13
96 inches long - about $17
Various colors and patterns include:
Circles and bubbles in black-and-white or green and blue
Abstract multi-colored florals
Neutral, all-natural leopard print
While these curtains are very reasonably priced, the selection is limited. Many come with metal-reinforced grommets and weighted hems.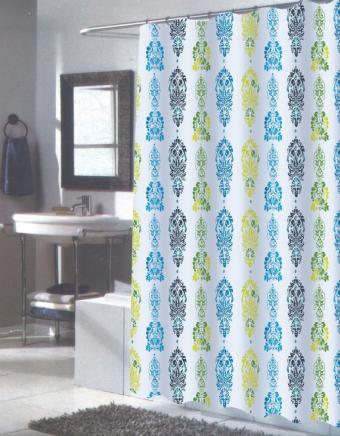 Wayfair
Wayfair offers dozens of shower curtains clearly labeled as "extra long" in lengths ranging from 84 to 90 inches. Examples of designs include:
Colorful abstract landscapes
Birds and dogs
Beach and ocean scenes
Cityscapes
Florals and exotic animals
Some curtains without the "extra-long" keywords built-in to their title still showed up on the search results for extra long shower curtains, measuring 84 inches top to bottom. Always be sure to verify the dimensions before you buy. Prices start as low as $35, with the majority of extra-long curtains costing just under or just over $100.
Walmart Online
Walmart offers an excellent selection of extra long shower curtains made by a company called 3DeKor, LLC. The curtains measure 84 inches long and are made from tightly woven polyester, eliminating the need for a liner. State-of-the-art printing equipment produces curtains such as
Lifelike images of beach sand, ocean waters and lazy palm trees
Mystical paisley, mysterious butterflies, magical mandalas, and colorful trees of life
Adorable animals, delicate feathers and florals, elegant ombre color fusion
Shipping direct from the factory for free, 3DeKor, LLC curtains start at about $40.
You can also find other brands of shower curtains available through Walmart, like Linens4Less.
Signature Hardware
Visit Signature Hardware if you just need an extra-long shower curtain liner or are looking for a very basic, simple solution to enclose a large clawfoot tub, soaking tub, whirlpool or tall shower enclosure. Here you can indicate both the width and height of the curtain you need by pre-selecting the dimensions in the left column or from a drop-down list when you choose a material.
The two longest dimensions offered include 84 and 96 inches. For an 84 inch curtain, you can choose from:
Vinyl in clear or milky white opaque
Hook-free vinyl in all opaque or with a built-in clear panel
Cotton duck fabric in light or dark blue, beige, white and pink
Vinyl is the only option for 96 inch curtains. Prices start as low as $28 for a clear vinyl curtain or liner and go up to about $45 for a heavy-duty cotton duck fabric shower curtain.
Decorative Things
As the name implies, Decorative Things is a company that carries specialty fabrics that can be made into attractive home accessories. They offer a nice selection of extra-long shower curtains measuring 84 or 96 inches long. Design examples include:
Dark green tropical broad leaves or lighter green bamboo stalks against a white background
Marbled or striped patterns in various colors
Deep blue ikat prints
Geometric Greek key patterns in gray, taupe, black, blue and purple
Damask patterns in blue, gray, black, silver and gold
Leopard and zebra print in various colors
Moroccan inspired trellis patterns in teal, salmon and gray
Made from cotton or polyester, depending on the design, prices for 84 inch long curtains start as low as $96 and go up to $242. The lowest price for a 96 inch long curtain starts at $125 and goes up to $308. Grommets can be added to the button hole openings for shower hooks if you request them. Decorative Things can also accommodate custom orders on extra-long or extra-wide shower curtains made to any size you specify.
Fashion Window Treatments
Fashion Window Treatments offers over 350 different fabrics or you can provide your own fabric for a custom made shower curtain. Choose from a standard list of widths including 72, 84, or a 100 inch wide curtain that will be made to the length you specify, up to 96 inches or call the company for any other dimensions. Fabric design samples include:
Classic or Victorian style floral designs
Elegant paisley or scrolling patterns
Stripes and plaids
Damask and toile prints
Geometric maze-like designs
Moroccan-style trellis patterns
Weights are placed in the bottom hem and your choice of either buttonholes or nickel grommets are added. You can also coordinate your custom shower curtain with custom window treatments and bedding.
Prices for custom curtains start at $99. Add-ons for grommets start at $22 for 8, going up to $44 for 16 grommets.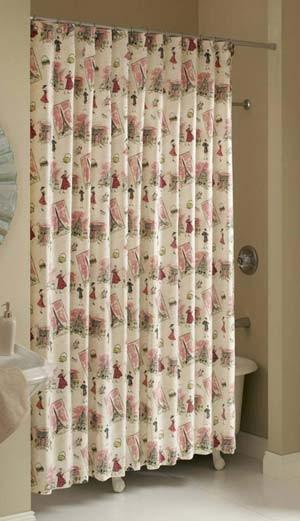 Curtain-Tracks.com
Curtain-Tracks.com specializes in ceiling mount shower curtain tracks, a popular alternative to traditional wall-mounted shower curtain rods. They make extra long shower curtains that accommodate their track systems or will customize a shower curtain to your exact specified height and width from the following materials:
Commercial grade vinyl
Nylon
Waffle poly/cotton blended fabric
Although the design selection is limited to clear and opaque vinyls, subtle woven patterns in fabric curtains and about a dozen or so muted colors, residential applications for these shower curtains isn't limited to just tubs and showers. They also make excellent room dividers.
Custom orders can be placed online if you need an extra long shower curtain that falls within the drop-down height measurements in six-inch increments from 78 through 102.
Then choose from a various list of width measurements, up to 288 inches. Contact the company by phone or e-mail for other sizes not listed. Curtain-Tracks.com indicates most do-it-yourselfers can install ceiling mount curtain track with a few carpentry tools and the appropriate fasteners, such as screws and anchors. However, compared to mounting a traditional shower curtain rod, the complexity might call for professional installation.
Fabric and vinyl curtains start at about $65-$70, or about $93 for the premium nylon fabrics.
Make Your Own Shower Curtain
If you have a sewing machine and know how to use it, you can make your own shower curtain. You can also sew an additional panel onto the bottom of a fabric shower curtain that isn't quite long enough.
The first thing you will need to do is pick out a fabric that can handle moisture such as polyester, vinyl, or a cotton-polyester blend. Keep in mind if you pick a pattern, you will need to be able to match up the design in the print when you sew the two panels together. You will have at least one seam in your shower curtain because most fabrics don't come wide enough for the standard 72 inch width of a typical shower curtain.
Good Housekeeping has easy instructions you can follow to make your own, unique shower curtain. Make sure you buy plenty of extra fabric if you want to coordinate your shower curtain with other textiles such as the bedroom or bathroom window curtains or some decorative throw pillows for the bed.
Get the Look You Want With a Long Shower Curtain
With so many style options and increased demand, you no longer need to settle with short, skimpy shower curtains that look out of place. Bring your home up to date with extra-long, elegant shower curtains that truly fit the space.