Toddler Canopy Bed
Buy Now"
This bed and canopy are the ultimate Dora the Explorer bedding choice. Your little explorer will be inspired to let her imagination run free to travel along with Dora on great adventures. In fact, your toddler will love this canopy bed so much you might have a difficult time getting her to leave her bedroom.
Micro Fleece Pillow
Buy Now"
This 13-inch, flower-shaped pillow would make a perfect addition to any Dora the Explorer bedroom motif. Little girls will love it.
Dora the Explorer and Boots Play
Buy Now"
This 3-pc twin sheet set includes:
1 flat sheet
1 fitted sheet
1 standard pillowcase
Your little one will love cuddling under the pink flowers and garden scenes while settling to sleep on this cute Dora pillow.
5-Pc Dora the Explorer Bedding
Buy Now"
This bed-in-a-bag set has everything you need to set up your child's bedroom.
1 Comforter: full size
1 full flat sheet
1 full fitted sheet
2 standard pillowcase
Pink is the order of the day with lots of pretty flowers and dragonflies, butterflies in Dora's magical garden. Boots joins Dora in the garden. Blue accent colors complete the design.
Soft Fleece Blanket
Buy Now"
Your little girl will love to snuggle up with Dora and Boots beneath this cozy throw blanket. It measures 50 by 60 inches, and it's machine washable.
Dora Puppy 4-Pc Bedding Set
Buy Now"
This bedding set is truly the ideal color for a little girls' bedroom. Dora is seated, holding her puppy encircled by colorful flowers.
Part of the
Best Friends Collection
, the set features words arching above Dora and Puppy to reinforce that a dog can be a girls' best friend, too.
Pretty Paisley Comforter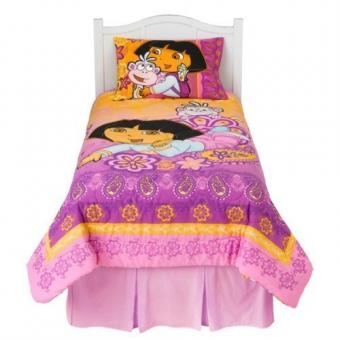 Buy Now"
This twin comforter has a pretty purple paisley design bordered by pink and gold. Stylized flowers complete the border effect. In the center panel is Dora lying in a field of flowers while Boots peeks over a large flower.
Twin size: 64" x 86"
Machine wash and dry
Paisley Sham Pillow
Buy Now"
This sham pillow matches the Pretty Paisley Comforter. Your child will also enjoy using it while sitting in bed to read bedtime story books.
4-Pc Crib Bedding and Mobile
Buy Now"
What a great way to decorate your baby's nursery! This 4-pc Dora the Explorer bedding set comes with:
1 comforter
1 bedskirt
1 fitted crib sheet
1 crib bumper
The comforter is stylized with a gorgeous satin appliqué and detailing. Many sets come with the Dora the Explorer musical mobile to complete the overall look. (The mobile plays a lullabye and attaches directly to the crib for stability.)
4-Pc Comforter Sheet Set
Buy Now"
This is a truly unique Dora look. Dora and Boots will welcome your toddler each time she goes to bed.
Dora's name is spelled out in gingham prints of multi-colors. Predominately pink, this set is trimmed in purple with a splash of colorful flowers.
Includes:
1 quilted bedspread
1 flat sheet
1 fitted sheet
1 pillowcase
Best Friends Blanket
Buy Now"
Part of the
Best Friends Collection
this blanket depicts Dora and Boots playing high in the sky with butterflies soaring about them. The words Best Friends is written in English and Spanish, giving it greater versatility and furthering the bi-lingual aspect associated with Dora the Explorer.
The blanket is extra plush, giving it a soft and luxurious feel that your little one will surely appreciate. The edges are finished with a pipe-stitching.
What a Day, Full Comforter
Buy Now"
This comforter will serve your child as she grows. This full-size comforter captures Dora the Explorer's zeal for life and fun-loving spirit. Your child will enjoy scooting off to bed to dream of having an exciting adventure with Dora.
What a Day, Matching Sheet Set
Buy Now"
What a great way to continue the motif and floral design of the matching comforter. This full-sized sheet set includes:
1 flat sheet: 81" x 96"
1 fitted sheet: 54" x 76"
2 standard-size pillowcases
Dance with Me, Fleece Blanket
Buy Now"
This polyester fleece blanket is adorable! Dora dances across a summer garden lawn dressed in a soft yellow dress.
Colorful pennants, ribbons, flowers, and clusters of balloons are the back-drop for this nice addition to any Dora the Explorer bedroom.
The slogan, Dance with Me, is written in both English and Spanish.
Enjoy more bedding and linen slideshows, with this one on
Canopy Bed Curtains
.