Color Blocks
Buy Now"
There are many beautiful designs for contemporary bedding to choose from to create a bedroom that is restful to the eyes as well as the body. While some trendy designs come and go, these long lasting contemporary designs are sure to be suitable bedding choices for many years. Color blocks, for example, are a bold way to add outstanding bursts of color to the bedroom without busy patterns. Neutral shades are the most popular, but there are many other color block options as well.
Click on any photo for retail information.
Plain Bedding
Buy Now"
Plain colors never go out of style, and you can turn a plain bedding set into a contemporary masterpiece with carefully selected coordinating pillows in bold accent shades. A little burst of color goes a long way in a contemporary bedding set.
Color Contrasts
Buy Now"
Contrasting colors give a bedding set visual interest without needing elaborate patterns. Simple blocks and stripes are the most popular choices, and choosing a light, fresh color such as white accented with black or chocolate brown will give your bedroom a refreshing look.
Geometry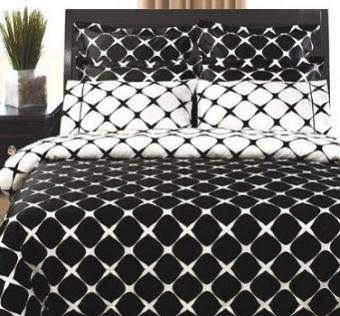 Buy Now"
Geometric bedding patterns have a chic look that is all the rage for contemporary sets. Black and white bedding is particularly popular for patterned sets where the eye will be drawn into the design rather than a rainbow. Furthermore, the alternating background colors on different parts of the bedding creates even more interest.
Natural Patterns
Buy Now"
Simple, natural patterns and bedding designs are restful and relaxing. Bamboo, twigs, flowers, leaves, and birds are all popular choices, but take care not to choose a set with too much patterning. A few simple accents on a largely blank bedding set will be more striking than a busier pattern.
Asian Bedding
Buy Now"
Asian bedding sets are popular for bedrooms with a distinct sense of Zen and harmony. These sets typically include bold colors such as red, black or brown. Bamboo patterns and Asian characters are popular.
Reversible
Buy Now"
Reversible bedding sets are a practical choice that can be just as beautiful as more elaborate bedding designs. Reversible bedding may have two closely coordinated colors or a pair of boldly contrasting shades, one on either side, and you can swap between the colors as the mood strikes you to freshen the look of your bedroom.
Lush Fabrics
Buy Now"
Soft, sumptuous fabrics such as velvet, chenille, and velour are popular for contemporary comforters and bedspreads. These fabrics - while they can be more difficult to clean - offer an unparalleled experience for sleeping and give a unique textural touch to the bedroom. A more common but equally enjoyable choice are jersey knit bedding sets that have a t-shirt texture.
Pure White
Buy Now"
The simplicity and freshness of pure white bedding is a popular contemporary choice. While white bedding can be a challenge to keep clean, it gives a bedroom a restful and relaxing appearance because it does not clutter the bedroom with colors and patterns. All types of bedding are available in white, and some minor embellishments like ribbing or stitching patterns can give the set distinction.
Wedding Rings
Buy Now"
The classic wedding ring quilt is just as popular as a contemporary design as it has been for decades as a vintage look. The interlocking rings are symbolic of the wedding bonds a couple shares, and there is no more suitable design for a couple's marital bed.
Silk Bedding
Buy Now"
Silk is a luxurious fabric perfect for a cool, light bed, and silk bedding is available in a wide range of colors and patterns. Contemporary sets are often simple and may just be solid colors, calling attention to the fineness of the fabric rather than cluttering it with a pattern.
Animal Prints
Buy Now"
While the bold, realistic animal print bedding sets are no longer as popular as they once were, more subdued versions in neutral shades are a fun option for a modern bedroom. Zebra, leopard, tiger, snakeskin, and other animal-inspired patterns are available.
Medallions
Buy Now"
Elaborate patterns with a cultural touch, such as Persian medallions, are always popular contemporary designs. Available in many colors and patterns, these culturally-inspired sets are a great choice for a fun bedroom.
Enjoy a slideshow on another fun bedroom style, Canopy Bed Curtains.
Want to learn more about contemporary bedding sets? Check out…