Coordinated Yellow Bedding
Bright yellow is a cheery color for bedding styles. You can use this uplifting hue with any bedroom theme. From a nursery to a master bedroom, you can add a splash of bright yellow or go all out with a monochromatic décor. Explore the different bedding options for this pleasing pop of sunshine color.
Sleeping on Sunshine
Curl up in a yellow sunshine quilt guaranteed to put a smile on your face! This quilt can be used in a child's or teen's room with russet and black accent colors. You can add this design to a racing car themed bedroom with a yellow and black color scheme.
Regal Bright Yellow Bedding
Make a spectacular master bedroom oasis worthy of a king and queen. This luxurious comforter in a satin patterned fabric reveals a corded embellishment. Self-same fabric pillows are paired with yellow stripe ones edged in ruffles. Bolster pillows combine all bedding elements for a complete bedding ensemble.
Happy Baby Bedding
Yellow is a great color for a crib especially if you want to create a gender-neutral color scheme. This ensemble features a yellow comforter with a bright yellow star pattern. The sheet and pillowcase are a combination of light yellow and white. This bedding set will transform your nursery into a sunny, happy place for your baby!
Relaxing in Bright Yellow
You can use bright yellow to introduce a lighter color into your bedroom décor. This bedroom features gold draperies. The stylized sunflower pattern in the comforter serves as a transition between the draperies and comforter. The gold flower pattern repeats the gold drapery hue to create a cohesive décor.
Turning Up Daisies
You can opt to use yellow as an accent color with a pair of bright daisy pattern pillows. You may even find some floor pillows or an area rug shaped like this popular flower. The large floral pattern of the two pillows provides a nice contrast with the yellow floral bedding.
Sunny Yellow Bedding
Sunny, cozy, bright yellow bedding is a wonderful way to counter drab winter nights. Select quilted bedding or soft luxurious blankets. You might choose a coverlet with a blanket stitch for a nice touch to add a sophisticated style to your bedroom.
Yellow and Gray Bedding
Buy Now"
The reversible comforter features a tile design highlighted with gray crown, bowtie and moustache icons. One side is a bright yellow with gray grid lines. The other side is dark gray with light gray grid lines.
Navy and Yellow
Buy Now"
Select a reversible comforter and shams set with a blue and yellow pattern on one side and a solid bright yellow on the other side for a money saving choice. This two for the price of one set offers a pattern of oversized flowers in dark navy, yellow, and teal.
Mustard Yellow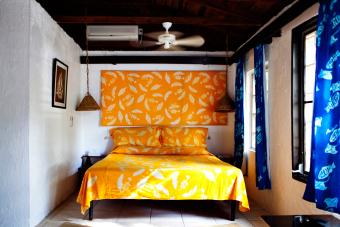 Mustard yellow bedding snaps a bedroom alive. This pattern is dramatic with white feathers appearing to free fall and tumble over the bed. The bedding fabric is also used to cover a large wall frame to create an art statement by repeating the pattern.
Teal and Yellow
Buy Now"
This teal and yellow design features gray and white accent colors. The zigzag effect created by the chevron pattern highlights the teal and yellow for a dramatic flair. This bedding set is a good choice for a teenager's bedroom or a modern style master bedroom.
Yellow and White
A country or farm style bedroom is the perfect candidate for this beautiful retro styled quilt. The center wreath of floral patterns are made from solid yellow and calico fabrics contrasting with the stem and leaves. Adorable yellow flowers appliqued over the beautifully stitched quilt create an amazing showpiece for any self-respecting iron framed bed.
Using Bright Yellow Bedding Styles
Bright yellow bedding styles are available in all types of patterns and themes. You can find one to transform your bedroom from a mediocre room into a bright and colorful place. You can use yellow bedding color schemes for active toddlers, picky teenagers and adult bedrooms.