Like the beds they're used on, adjustable bed sheets come in a variety of designs and materials. Explore the options so you can make an informed decision on the type of adjustable bed sheets that are best for you and your bed.
Conventional Sheets
Conventional or standard bed sheets for adjustable beds are usually custom made to order. They can be sold individually or in sets that contain one fitted sheet, one flat sheet and one or two pillowcases, depending on the size. A conventional fitted sheet for an adjustable bed has elastic sewn around the entire perimeter of the sheet to hold it snugly against the mattress.
In general, conventional sheet sets aren't marketed specifically for adjustable beds because of functional issues such as the corners of fitted sheets popping off the mattress when the bed is in motion. To help ensure the best fit, measure your mattress carefully. You might be surprised to find what you thought was a Twin is really a Twin XL.
Another crucial element, especially for a conventional fitted sheet, is the depth measurement. The elastic hem must wrap around the mattress and end just underneath the corners and sides to ensure it will stay in place when the bed is in motion.
Sizing
Conventional sheets can be made for the following standard mattress sizes in inches or to any size you specify:
Hospital - 36 x 75 or hospital XL - 36 x 80
Twin - 38 x 75 or twin XL - 38 x 80
Full - 53 x 75 or full XL - 53 x 80
Queen - 60 x 80
King - 76 x 80
California king - 72 x 84
The standard mattress depth of 7 inches is actually becoming less of a standard with the modern mattresses of adjustable beds today. It's not uncommon to find mattresses ranging between 15 and 20 inches deep.
Compatible Bed Types
Conventional sheets can be used on the following types of adjustable beds:
Single mattress beds in all sizes
Dual mattress beds in Queen, King and California King
If you have a Queen or King sized adjustable bed with dual mattresses, you will need to buy conventional bed sheets individually or in split sets. For example, a King split set includes two Twin XL fitted sheets and one King sized flat sheet, along with two pillowcases.
Buy Sheets at Cozytown Linens
If you decide to try the simplest option first and go with conventional sheets for your adjustable bed, you can find them online at Cozytown Linens.
The sheet prices vary by the mattress size, depth and material chosen. Each fabric type is offered in two to five earth-tone colors. The following examples include base prices for sheet set sizes ranging from Twin to split King, with mattress depths under 10 inches:
Cotton/Polyester blend - offered in 200 TC (thread count), about $97-$168
Bamboo/Cotton blend - offered in 300 TC, about $142-$214
Pima Cotton - offered in 310 TC sateen weave, about $132-$204
Pima Cotton - offered in 600 TC, about $155-$224
Cotton Flannel - double napped and brushed on both sides, about $107-$199
A single fitted sheet in 200 TC cotton/poly blend ranges from $63-$127. When measuring your mattress depth, don't add any extra inches. Cozytown Linens will add the extra two inches needed to ensure the pocket depth is deep enough to tuck the fitted sheet under the mattress. Cozytown also offers some of the specialized adaptations discussed in the following sections that help keep fitted sheets in place when an adjustable bed is put in motion.
Cozytown Linens offers fitted sheets with wings for an additional $10 up charge to their sheet sets and fitted sheets.
Ratings and Reviews
Cozytown Linens has a curious lack of reviews, without showing any type of customer testimonials on their website and only having about 130 "Likes" on Facebook. A meager three reviews on Yelp isn't enough feedback to form a fair analysis of their service or products. However, the company has been in business since the year 2000 and is one of the only retailers that offer custom made conventional sheets for adjustable beds. Additionally, while not accredited with the Better Business Bureau, they have a solid B+ rating.
Fitted Sheets With Wings
Wings are typically a curved or rounded piece of extra fabric sewn into the side hem of the fitted sheet. The wing is tucked under the mattress to anchor the sheet and keep it in place when the head of the bed is being raised or lowered.
Wings are usually offered as an add-on item to customized sheets that are made to order for adjustable beds.
Compatible Bed Types
Fitted sheets with wings work best on the following types of adjustable beds:
Single mattress in Twin, Full, Queen, King or California King
Dual mattresses in Queen, King or California king
Head only split mattress in Queen, King and California king
Buy Sheets at Tall Paul's Tall Mall
Tall Paul's Tall Mall offers custom, made to order sheet sets for adjustable beds. Wings can be added to the fitted sheet in a set for an extra $12. Sheet sets come in a wide range of colors available in five different types of fabric.
Here is what you can expect to pay at Tall Paul's for sheet sets ranging in size from twin to split King, depending on the fabric:
Cotton 300 thread count - from about $130-$192
Cotton 600 thread count - from about $156-$258
Cotton/Poly blend - from about $100-$145
Cotton flannel - from about $127-$190
Bridal satin - from about $140-$184
Keep in mind these base prices don't include up charges added for deeper mattresses. Those range from $5-$35 for mattresses 9 to 23 inches deep.
Ratings and Reviews
Tall Paul's Tall Mall has a handful of positive customer testimonials posted along the sidebar of their website and only about six reviews posted on their Facebook page. Located in Montpelier, Vermont, it's unclear how long the company has been established but the Facebook reviews only go back to 2016. They are not Better Business Bureau accredited, but do have an A+ rating.
Sheets With Corner Straps
Fitted sheets with built-in corner straps are the most common style of sheet designed for adjustable beds. The straps come as an additional feature that can be added to custom made sheets or they can be found on dozens of types of ready-made sheets.
Built-in corner straps are very simple to use. Just pull each corner of the fitted sheet underneath the mattress and make sure the strap is stretched across diagonally without being twisted.
Compatible Bed Types
Fitted sheets with built-in corner straps can work with any type of adjustable bed including:
Single mattress in any size
Dual mattresses in Queen, Queen, King or California King
Head only split mattress in Queen, King and California King
Head and foot split mattress in Queen, King and California King
Compatible bed types will vary by each manufacturer. Many companies provide a list or diagram of the type of adjustable bed bases they make sheets for. In this case, select the type of bed you have to see the available fabric options. Otherwise, check into split sets in the appropriate size if your bed has dual mattresses.
Where to Find Sheets With Corner Straps
This type of adjustable bed sheet offers an abundance of shopping options, from brand-name sheets designed by adjustable bed manufacturers to universal sheets designed to work on both standard and adjustable beds.
Tall Paul's and Cozytown Linens will add corner straps to fitted sheets for an extra $12.
DreamFit Sheets all contain corner straps across each corner of the fitted sheet, which also contains an extra wide elastic band around the entire perimeter. Flats sheets are also oversized, allowing extra room for mattress movement. Split sets are offered in Degree 2-7. Soft, neutral colors vary by each fabric type. Sheet sets can be purchased at Mattress Firm, Quality Sleep or Amazon for the following prices:
Degree 1 - 100% brushed Microfiber, about $37-$60
Degree 2 - 100% combed cotton, about $70-$140
Degree 3 - Extra-long staple Pima cotton, about $80-$170
Degree 4 - extra-long staple Egyptian cotton, about $100-$200
Degree 5 - 70% Viscose from bamboo and 30% extra-long staple cotton, about $120-$220
Degree 5 Quilted - the same bamboo/cotton blend as Degree 5, about $240-$380
Degree 6 - 70% Micro Tencel and 30% Supima cotton, about $200-$320
Degree 6 Quilted - the same blend of Micro Tencel and Supima cotton as Degree 6, about $320-$400
Degree 7 - 100% Supima cotton, about $250-$350
Ratings and Reviews
The majority of over 400 Amazon customers who purchased and reviewed DreamFit sheet sets in Degree 1, 3, 4 and 5 gave the sheet sets a five star rating, resulting in an overall average of about 4.2 stars.
Most adjustable bed owners were delighted with the fit and softness of the sheets. Customers with extra thick mattresses (up to 20 in. deep with toppers) had no problem putting the fitted sheet on the bed.
The minor drawback noted that the sheets tend to wrinkle after being washed and dried can easily be rectified by promptly removing them from the dryer and placing them back on the bed.
Drawstring Sheets
Made by a company called Comfy-Snug, drawstring sheets work differently than standard elastic fitted sheets. The sheets have a patented drawstring system sewn in to the side hem, which is curved on all four sides. Like the support cable of a suspension bridge, the force from the drawstring is distributed evenly along the full length of each edge of the sheet, holding it snugly and securely to the mattress.
How to Use Them
Locate the plastic cord locking device on the side of the sheet hem. Spread the sheet out across the mattress so the locking device falls along the center of the mattress lengthwise, along the side with the easiest access.
Tuck the sheet in under the mattress along all four sides. To tighten the sheet around the mattress, pull each loose end of the drawstring cord outward. The device will lock automatically when the cords are released. You may need to pull on the cords a few times to get the sheet snug.
Take a look at the demo video. When you want to remove the sheet, pull the loop on the locking tab to release tension on the cord.
Compatible Bed Types
Drawstring sheets work on adjustable beds with:
Single mattresses in Twin, Full, Queen, King and California King
Extra-long Twin mattresses
Where to Find Drawstring Sheets
Comfy-Snug Drawstring Sheets can only be purchased on Amazon. The sheets come in three neutral colors and two materials, 300 TC cotton or microfiber. However, you can only order in quantities of one or two sheets or sets.
There is also a $10 shipping fee per sheet or set. Sets are only available in Queen, King or California King. Although split sets are offered in Queen or California King, they only contain one fitted sheet. Therefore, they are not true split sets. Prices for fitted sheets include:
Twin, Twin XL and hospital (size) cotton - about $32, microfiber - about $18
Full cotton - about $36
Queen cotton - about $32, microfiber about $23
King cotton - about $41, microfiber - about $24
California King cotton - about $32
Full sets including a fitted sheet, top sheet, and pillowcases cost about:
Queen - $63
King - $72 eligible for free shipping with Amazon Prime
California King - $72
Risk-Free Trial
If you're feeling a little uncertain about buying such a radically different type of bed sheet, a 30 day money back guarantee might help put your mind at ease. If you're not happy with the sheets for any reason, return the order within 30 days of receiving it for a full refund of the purchase price. The cord lock is guaranteed for life and the fabric is guaranteed not to pill for one year.
Ratings and Reviews
Comfy-Snug drawstring fitted sheets earned an overall rating of 4.3 stars on Amazon, with over 70% of customers giving the sheets a five star rating. Most reviewers felt the sheets worked exactly as advertised.
Owners of adjustable beds such as Tempur-Pedic, Craftmatic, Sleep Number, Icomfort and hospital beds were extremely pleased with the sheets because they stayed in place on the mattress no matter what position the bed was in. Customers bothered by wrinkles and bunching on other sheets love the smooth, soft surface of the drawstring sheets.
A small minority of reviewers struggled with getting the sheets to fit right on large king-sized mattresses or extra thick mattresses.
Split-Top Flat Sheets
While most manufacturers of adjustable bed sheets focus only on the fitted sheet, there is one company that offers specialized adaptations on both the fitted sheet and the top flat sheet. That company is DoubleUps for Beds.
DoubleUps' unique split-top flat sheet is divided at the head, down the middle of the sheet or at both the head and foot of the sheet. This design helps eliminate air pockets when one side of the bed is raised and keeps the sheet from tugging or pulling away from the person lying flat.
Split sheets are held together by a sew box located near the foot or center of the sheet. The left and right sides overlap each other and the bottom of the top sheet can be tucked in or left untucked according to each partner's sleeping preference.
Fitted Sheet Features
Each end of the fitted sheet is made with a special adjustable insert that forms a boxing shape around the ends of the mattress. Corners are doubly reinforced with a half-inch elastic strap sewn completely around the boxing at both ends. A circular piece of fabric serving as a wing in the middle of the fitted sheet helps keep it in place when the mattress is moving. Fitted sheets for split mattresses are also divided at the head or the head and foot.
Compatible Bed Types
DoubleUps for Beds are one of the few manufacturers that make top and bottom adjustable bed sheets for all configurations of adjustable beds:
Single mattress in Twin XL, Full XL, California Queen, Queen, King or California King
Dual mattresses in California Queen, Queen, King or California King
Head only split mattress in California Queen, Queen, King and California King
Head and foot split mattress in California Queen, Queen, King and California King
Where to Find Split-Top Flat Sheets
DoubleUps for Beds is based in Colorado. Although the company indicates their products will be available in specialty stores and designer showrooms in the future, for now their adjustable bed sheets can only be purchased online at DoubleUps for Beds. Prices for split-top sheet sets vary by size and material with a wide range of color options. Thread count and pricing estimates include:
200TC cotton polyester blend starts around $115 for single mattresses and reaches about $220 for head and foot split.
350TC combed pima cotton starts around $170 and works it way to about $275, depending on size selected.
600TC Egyptian cotton will cost about $220 upwards of $325 with a number of price points between the smallest and largest sizes.
Ratings and Reviews
DoubleUps For Beds does have a customer testimonial page, filled with positive feedback. The only problem with positive only testimonials is that they only present one side of the customer experience. It feels less objective (and less helpful) than a review page where customers can rate the products and services of the retailer and comment about their experience whether it was good or bad.
However, the company has been in business since 2002 and has been featured on HGTV, The New York Times and ColoradoBIZ magazine.
Adjustable Bed Brand-Named Sheets
Many adjustable bed manufacturers also produce sheet sets designed to work specifically with their bed types. Two examples include:
Tempur-Pedic Bed Sheets
Tempur-Pedic offers sheet sets in soft, muted colors and four different fabrics for a range of quality and price that are designed to work on single mattress and dual mattress adjustable bed types. Fitted sheets contain corner straps to help hold them in place and have depths up to 17.5 inches.
Long-staple Combed Cotton - sets range from $48-$104
Pima Cotton - sets range from $90-$160
Bamboo/Cotton blend - sets range from $104-$167
Egyptian cotton - sets range from $132-$230
Tempur-Pedic brand adjustable bed sheets are available online at Tempur-Pedic.com.
The majority of customers who've purchased and reviewed Tempur-Pedic bed sheets gave them four and five star ratings and would recommend the sheets. They indicate the sheets fit their memory foam mattresses well, are easy to put on and stay in place, in addition to feeling soft.
Sleep Number Sheets
Sleep Number beds are some of the most advanced adjustable beds on the market, providing the ability to control the firmness or softness of the mattress on each side, optional foot warming and temperature balancing sleep surfaces. Their FlexFit adjustable bases come in single, dual and split head mattress designs.
Fitted sheets have built-in corner straps. Split sheets sets include two fitted sheets while FlexFit Head sets include one fitted sheet split (divided) at the head.
Sleep Number offers five varieties of boldly colored sheet sets made from various types of fabric:
True Temp - a blend of 76% cotton, 22% polyester and 2% spandex to maintain temperature. Sets range from $200-$300
Lyocell Ultimate Sheet Set - a blend of 70% Lyocell 30% cotton. Sets range from about $144-$240
Percale cotton - 100% cotton, sets range from $40-$72
Winter Soft Sheet Set - made from plush microfiber, sets range from $56-$120
In Balance Sheet Set - 50% cotton, 50% Outlast Viscose (bamboo) fiber, sets range from $184-$264
Sleep Number sheet sets can be found online at Sleep Number.com.
Customers who purchased Sleep Number sheet sets left very mixed reviews on most of the fabric types except for the plush microfiber "Winter" sheets. About 80% of reviewers rated the Winter sheets with five stars, loving the warmth and soft, plush comfort. With only two reviews, the True Temp sheets could go either way. However, there were a lot of complaints with the In Balance sheets used on FlexFit split head mattresses because the sheets kept tearing. Customers also felt the Percale cotton sheets were scratchy and uncomfortable.
Sheet Straps and Suspenders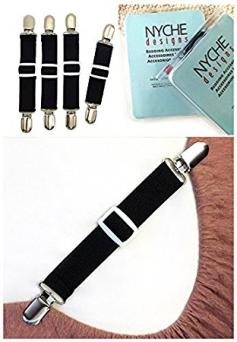 If you already have high quality standard sheets, don't want to buy new sheets, or you need a more affordable option than specialty sheets, you might want to try using sheet straps or sheet suspenders to help hold the fitted sheet in place. Some straps are designed to cover just the corners or may stretch the entire length, width or diagonal surface of the mattress. However, if your adjustable bed mattress is split at the head or both the head and foot, these devices won't work so you must buy specialty sheets.
Where to Buy
You can find adjustable corner straps and bed sheet suspenders with four star or higher ratings online at Amazon for about $9-$16.
Reviews
Most adjustable bed owners who purchased and reviewed the Nyche Designs corner straps reported their fitted sheets stayed in place and didn't seem to have any problems applying the straps. Similar feedback was left by verified purchasers of the Original Sheets Spenders.
Know Your Bed Before Buying
Now that bed linens are finally catching up with adjustable bed technology, customers can be more selective when choosing sheet sets for adjustable beds. Adjustable beds with dual bases require split sheet sets containing two fitted sheets, one flat sheet and two pillowcases unless the sheets are bought individually; don't confuse them with split mattress beds, which require highly specialized sheet sets that are divided at either the head or both the foot and head. Sheets with corner straps offer the most in terms of variety, cost and user friendliness while drawstring sheets appear to be a budget-friendly, safe bet.